Hi!
I saw the post 3D reconstruction of simulated particles with high SNR - 3D Reconstruction - CryoSPARC Discuss, and tried to do reconstruction from clean, no-CTF, simulated projections, but got wrong 3D map result. I'm working with CryoSPARC v4.0.2, and my workflow and 3D map result are shown in the following figure.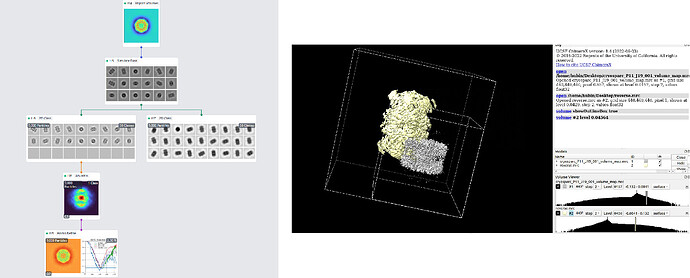 The left figure shows the workflow.
Import Volume: The imported volume is the result of Homo Refine job in the cryosparc T20S tutorial. (Done in advance, and the 3D map result is good, and 9378 particles are contributed to the final map reconstruction.)

Simulate Data: I set SNR=99999999 and turn off Apply CTF to images to simulate 9000 clean projections. Other parameters are as default.

2D Class: As for simulate data, I think 2D class is not necessary, but according to the post link above, I do the 2D Class to make cryosparc ignore CTF. In the right one (J17), all parameters are as default; while in the left one (J16), I turn off Do CTF correction to make cryosparc ignore CTF in following processing.

Ab initio: All parameters are as default.

Homo Refine: I give D7 symmtry and other parameters are as default.
I open the result 3D map in ChimeraX, as shown in the right figure. The gray one is the 3D map result of Homo Refine job. It's absolutely wrong, not like T20S structure at all. I suspect it's because something wrong with blob/sign, as 2D Class result is not so right. So, I reverse the 3D map, that is, read the .mrc map file with mrcfile python package, and multiply all elements with -1, and save the map. The reversed map is the yellow one in ChimeraX. It looks more like T20S than the gray one, but is also absolutely wrong compared to the real T20S structure. (Besides, after open two .mrc map file in ChimeraX, the yellow one looks bigger than the gray one, and I don't know why.)
As I use clean projections to reconstruct, I expect to get a good 3D map result, but it turns out not the case. I'm wondering what's wrong or why is this. Anyone has any advice?
Best,
Ciren