Hello,
I often find that grouping micrographs into image shift groups and refining per-group CTF params improve resolution, when there is a significant optical aberration present in the dataset. We have had cases that improved the resolution from 3.4 Å to 2.8 Å & from 3 Å to 2.5 Å.
NU-Refinement; Iterative optimizations for per-particle defocus and per-group CTF parameters were ON. The masked FSC looks comparable to the unmasked FSC:

Same NU-Refinement job after grouping the particles by image shift groups:

I use K-means clustering in scikit-learn to group micrographs by similar image shift X & Ys. Then I edit the particles.star to run CTFRefine in RELION. The downside of this is that the refined CTF params do not carry over to cryoSPARC when you import back the particles, and I am stuck with RELION for further processing.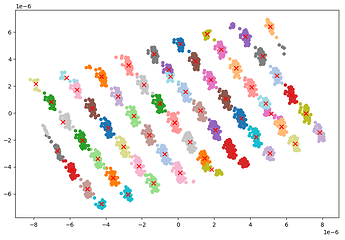 I wanted to do the same in cryoSPARC, and it involves:
Running a python script for K-Means clustering (kmeans_groups.py)
Adding class identifier numbers to the filenames of symlinked micrographs, then importing the micrographs with new names (add_class.sh)
Reassigning particles to the imported micrographs (without re-extracting particles)
Running Exposure Group Utilities to split particles by their location/micrograph_path
Building from the initial k-means script that Bill Rice at NYU kindly provided, I wrote python and bash shell scripts for steps 1 & 2 (GitHub - kookjookeem/kmeans-beamtilt), and the page describing the steps can be found here.
I hope you find these scripts useful! Please try and let me know if you have any questions.
Best,
Kookjoo