Whenever I try to process the tutorial data, I get a traceback error during CTF estimation (please see attached). I've also included the metadata below.
I've been running the T20S comprehensive workflow, so I don't know why I'm getting this error as the entire structure solution process should be automated.
Inspecting log files from previous runs, I noticed that cryosparc was not detecting the Nvidia drivers. I updated the Nvidia drivers (and CUDA to be safe) but I still get the same error.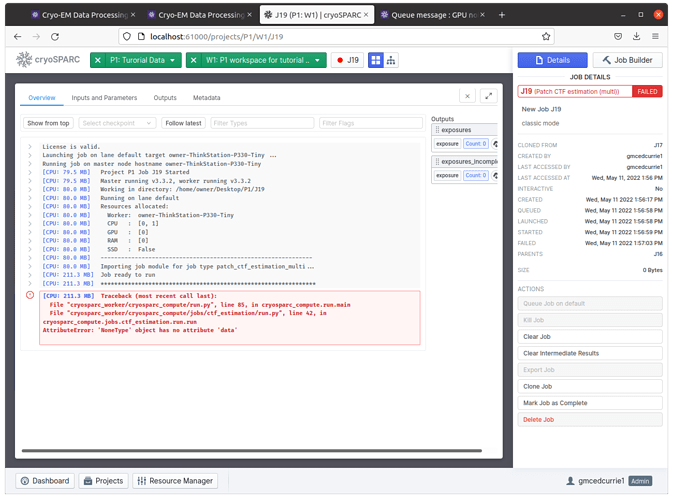 Metadata Below:
{"_id":{"_str":"628e9fc67fb8dcfa9176a091"},"children":[],"created_at":"2022-05-25T21:29:42.063Z","created_by_job_uid":null,"created_by_user_id":"62715ee641631cd1417ca360","interactive":false,"job_type":"patch_ctf_estimation_multi","launched_at":"2022-05-25T21:30:09.283Z","parents":["J38"],"project_uid":"P1","queue_message":null,"queued_at":"2022-05-25T21:30:08.841Z","started_at":"2022-05-25T21:30:09.854Z","status":"failed","title":"New Job J41","uid":"J41","waiting_at":null,"workspace_uids":["W3"],"cloned_from":"J39","deleted":false,"type":"patch_ctf_estimation_multi","ui_tile_height":1,"ui_tile_images":[],"ui_tile_width":2,"completed_at":null,"description":"Enter a description.","failed_at":"2022-05-25T21:30:14.123Z","job_dir_size":0,"killed_at":null,"last_accessed":{"name":"gmcedcurrie1","accessed_at":"2022-05-26T14:51:15.267Z"},"priority":0,"version":"v3.3.2+220518","run_as_user":null,"params_secs":{"general_settings":{"title":"General settings","desc":"","order":0},"ctf_settings":{"title":"CTF estimation","desc":"","order":1},"compute_settings":{"title":"Compute settings","desc":"","order":2}},"params_base":{"do_plots":{"type":"boolean","value":true,"title":"Make motion diagnostic plots","desc":"Whether or not to make plots of motion trajectories. Motion trajectories can also be inspected using the \"Curate Exposures\" job type after this job completes.","order":0,"section":"general_settings","advanced":false,"hidden":false},"num_plots":{"type":"number","value":10,"title":"Number of movies to plot","desc":"Only make plots for the first this many movies.","order":1,"section":"general_settings","advanced":false,"hidden":false},"random_num":{"type":"number","value":null,"title":"Only process this many movies","desc":"Randomly select this many movies to process. Helpful for tweaking params.","order":2,"section":"general_settings","advanced":false,"hidden":false},"classic_mode":{"type":"boolean","value":false,"title":"Classic mode","desc":"Uses the old Patch CTF algorithm (cryoSPARC v.2.15 and earlier) intead of the new one.","order":3,"section":"general_settings","advanced":false,"hidden":false},"amp_contrast":{"type":"number","value":0.1,"title":"Amplitude Contrast","desc":"Amplitude constrast to use. Typically 0.07 or 0.1 for cryo-EM data.","order":4,"section":"ctf_settings","advanced":false,"hidden":false},"res_min_align":{"type":"number","value":25,"title":"Minimum resolution (A)","desc":"Minimum resolution (in A) to consider when estimating CTF.","order":5,"section":"ctf_settings","advanced":true,"hidden":false},"res_max_align":{"type":"number","value":4,"title":"Maximum resolution (A)","desc":"Maximum resolution (in A) to consider when estimating CTF.","order":6,"section":"ctf_settings","advanced":true,"hidden":false},"df_search_min":{"type":"number","value":1000,"title":"Minimum search defocus (A)","desc":"Defocus range for gridsearch.","order":7,"section":"ctf_settings","advanced":true,"hidden":false},"df_search_max":{"type":"number","value":40000,"title":"Maximum search defocus (A)","desc":"Defocus range for gridsearch.","order":8,"section":"ctf_settings","advanced":true,"hidden":false},"phase_shift_min":{"type":"number","value":0,"title":"Min. search phase-shift (rad)","desc":"Phase-shift range for gridsearch.","order":9,"section":"ctf_settings","advanced":true,"hidden":false},"phase_shift_max":{"type":"number","value":3.141592653589793,"title":"Max. search phase-shift (rad)","desc":"Phase-shift range for gridsearch.","order":10,"section":"ctf_settings","advanced":true,"hidden":false},"do_phase_shift_refine_only":{"type":"boolean","value":false,"title":"Do phase refine only","desc":"Whether to carry out refinement over phase shift only","order":11,"section":"ctf_settings","advanced":true,"hidden":false},"override_K_Y":{"type":"number","value":null,"title":"Override knots Y","desc":"Override automatically selected spline order for Y dimension (vertical)","order":12,"section":"ctf_settings","advanced":true,"hidden":false},"override_K_X":{"type":"number","value":null,"title":"Override knots X","desc":"Override automatically selected spline order for X dimension (horizontal)","order":13,"section":"ctf_settings","advanced":true,"hidden":false},"compute_num_gpus":{"type":"number","value":1,"title":"Number of GPUs to parallelize","desc":"Number of GPUs over which to parallelize computation.","order":14,"section":"compute_settings","advanced":false,"hidden":false}},"params_spec":{"random_num":{"value":5}},"input_slot_groups":[{"type":"exposure","name":"exposures","title":"Micrographs","description":"Micrographs for CTF estimation","count_min":1,"count_max":null,"repeat_allowed":false,"slots":[{"type":"exposure.micrograph_blob","name":"micrograph_blob_non_dw","title":"Non-doseweighted micrograph data","description":"","optional":true},{"type":"exposure.micrograph_blob","name":"micrograph_blob","title":"Micrograph data (dose-weighted)","description":"","optional":true},{"type":"exposure.mscope_params","name":"mscope_params","title":"Exposure parameters","description":"","optional":false}],"connections":[{"job_uid":"J38","group_name":"micrographs","slots":[{"slot_name":"micrograph_blob_non_dw","job_uid":"J38","group_name":"micrographs","result_name":"micrograph_blob_non_dw","result_type":"exposure.micrograph_blob","version":"F"},{"slot_name":"micrograph_blob","job_uid":"J38","group_name":"micrographs","result_name":"micrograph_blob","result_type":"exposure.micrograph_blob","version":"F"},{"slot_name":"mscope_params","job_uid":"J38","group_name":"micrographs","result_name":"mscope_params","result_type":"exposure.mscope_params","version":"F"},{"slot_name":null,"job_uid":"J38","group_name":"micrographs","result_name":"micrograph_thumbnail_blob_1x","result_type":"exposure.thumbnail_blob","version":"F"},{"slot_name":null,"job_uid":"J38","group_name":"micrographs","result_name":"micrograph_thumbnail_blob_2x","result_type":"exposure.thumbnail_blob","version":"F"},{"slot_name":null,"job_uid":"J38","group_name":"micrographs","result_name":"background_blob","result_type":"exposure.stat_blob","version":"F"},{"slot_name":null,"job_uid":"J38","group_name":"micrographs","result_name":"rigid_motion","result_type":"exposure.motion","version":"F"},{"slot_name":null,"job_uid":"J38","group_name":"micrographs","result_name":"spline_motion","result_type":"exposure.motion","version":"F"},{"slot_name":null,"job_uid":"J38","group_name":"micrographs","result_name":"movie_blob","result_type":"exposure.movie_blob","version":"F"},{"slot_name":null,"job_uid":"J38","group_name":"micrographs","result_name":"gain_ref_blob","result_type":"exposure.gain_ref_blob","version":"F"}]}]}],"output_result_groups":[{"uid":"J41-G0","type":"exposure","name":"exposures","title":"Micrographs full-frame aligned","description":"","contains":[{"uid":"J41-R0","type":"exposure.ctf","group_name":"exposures","name":"ctf","passthrough":false},{"uid":"J41-R1","type":"exposure.ctf_stats","group_name":"exposures","name":"ctf_stats","passthrough":false},{"uid":"J41-R2","type":"exposure.micrograph_blob","group_name":"exposures","name":"micrograph_blob_non_dw","passthrough":true},{"uid":"J41-R3","type":"exposure.micrograph_blob","group_name":"exposures","name":"micrograph_blob","passthrough":true},{"uid":"J41-R4","type":"exposure.mscope_params","group_name":"exposures","name":"mscope_params","passthrough":true},{"uid":"J41-R5","type":"exposure.thumbnail_blob","group_name":"exposures","name":"micrograph_thumbnail_blob_1x","passthrough":true},{"uid":"J41-R6","type":"exposure.thumbnail_blob","group_name":"exposures","name":"micrograph_thumbnail_blob_2x","passthrough":true},{"uid":"J41-R7","type":"exposure.stat_blob","group_name":"exposures","name":"background_blob","passthrough":true},{"uid":"J41-R8","type":"exposure.motion","group_name":"exposures","name":"rigid_motion","passthrough":true},{"uid":"J41-R9","type":"exposure.motion","group_name":"exposures","name":"spline_motion","passthrough":true},{"uid":"J41-R10","type":"exposure.movie_blob","group_name":"exposures","name":"movie_blob","passthrough":true},{"uid":"J41-R11","type":"exposure.gain_ref_blob","group_name":"exposures","name":"gain_ref_blob","passthrough":true}],"passthrough":"exposures","num_items":0,"summary":{}},{"uid":"J41-G1","type":"exposure","name":"exposures_incomplete","title":"Micrographs incomplete","description":"","contains":[{"uid":"J41-R12","type":"exposure.ctf","group_name":"exposures_incomplete","name":"ctf","passthrough":false},{"uid":"J41-R13","type":"exposure.micrograph_blob","group_name":"exposures_incomplete","name":"micrograph_blob_non_dw","passthrough":true},{"uid":"J41-R14","type":"exposure.micrograph_blob","group_name":"exposures_incomplete","name":"micrograph_blob","passthrough":true},{"uid":"J41-R15","type":"exposure.mscope_params","group_name":"exposures_incomplete","name":"mscope_params","passthrough":true},{"uid":"J41-R16","type":"exposure.thumbnail_blob","group_name":"exposures_incomplete","name":"micrograph_thumbnail_blob_1x","passthrough":true},{"uid":"J41-R17","type":"exposure.thumbnail_blob","group_name":"exposures_incomplete","name":"micrograph_thumbnail_blob_2x","passthrough":true},{"uid":"J41-R18","type":"exposure.stat_blob","group_name":"exposures_incomplete","name":"background_blob","passthrough":true},{"uid":"J41-R19","type":"exposure.motion","group_name":"exposures_incomplete","name":"rigid_motion","passthrough":true},{"uid":"J41-R20","type":"exposure.motion","group_name":"exposures_incomplete","name":"spline_motion","passthrough":true},{"uid":"J41-R21","type":"exposure.movie_blob","group_name":"exposures_incomplete","name":"movie_blob","passthrough":true},{"uid":"J41-R22","type":"exposure.gain_ref_blob","group_name":"exposures_incomplete","name":"gain_ref_blob","passthrough":true}],"passthrough":"exposures","num_items":0,"summary":{}}],"output_results":[{"uid":"J41-R0","type":"exposure.ctf","group_name":"exposures","name":"ctf","title":"Local CTF estimate","description":"","min_fields":[["type","O"],["path","O"],["exp_group_id","u4"],["accel_kv","f4"],["cs_mm","f4"],["amp_contrast","f4"],["df1_A","f4"],["df2_A","f4"],["df_angle_rad","f4"],["phase_shift_rad","f4"],["cross_corr_ctffind4","f4"],["ctf_fit_to_A","f4"],["fig_of_merit_gctf","f4"]],"versions":[],"metafiles":[],"num_items":[],"passthrough":false},{"uid":"J41-R1","type":"exposure.ctf_stats","group_name":"exposures","name":"ctf_stats","title":"Local CTF estimate stats","description":"","min_fields":[["type","O"],["ctf_fit_to_A","f4"],["cross_corr","f4"],["df_range","2f4"],["df_tilt_normal","2f4"],["ice_thickness_rel","f4"],["spectrum_dim","u4"],["diag_image_path","O"],["fit_data_path","O"]],"versions":[],"metafiles":[],"num_items":[],"passthrough":false},{"uid":"J41-R2","type":"exposure.micrograph_blob","group_name":"exposures","name":"micrograph_blob_non_dw","title":"Passthrough micrograph_blob_non_dw","description":"Passthrough from input exposures.micrograph_blob_non_dw (slot_name)","min_fields":[["path","O"],["idx","u4"],["shape","2u4"],["psize_A","f4"],["format","O"],["is_background_subtracted","u4"],["vmin","f4"],["vmax","f4"],["import_sig","u8"]],"versions":[],"metafiles":[],"num_items":[],"passthrough":true},{"uid":"J41-R3","type":"exposure.micrograph_blob","group_name":"exposures","name":"micrograph_blob","title":"Passthrough micrograph_blob","description":"Passthrough from input exposures.micrograph_blob (slot_name)","min_fields":[["path","O"],["idx","u4"],["shape","2u4"],["psize_A","f4"],["format","O"],["is_background_subtracted","u4"],["vmin","f4"],["vmax","f4"],["import_sig","u8"]],"versions":[],"metafiles":[],"num_items":[],"passthrough":true},{"uid":"J41-R4","type":"exposure.mscope_params","group_name":"exposures","name":"mscope_params","title":"Passthrough mscope_params","description":"Passthrough from input exposures.mscope_params (slot_name)","min_fields":[["accel_kv","f4"],["cs_mm","f4"],["total_dose_e_per_A2","f4"],["phase_plate","u4"],["neg_stain","u4"],["exp_group_id","u4"],["defect_path","O"]],"versions":[],"metafiles":[],"num_items":[],"passthrough":true},{"uid":"J41-R5","type":"exposure.thumbnail_blob","group_name":"exposures","name":"micrograph_thumbnail_blob_1x","title":"Passthrough micrograph_thumbnail_blob_1x","description":"Passthrough from input exposures.micrograph_thumbnail_blob_1x (result_name)","min_fields":[["path","O"],["idx","u4"],["shape","2u4"],["format","O"],["binfactor","u4"],["micrograph_path","O"],["vmin","f4"],["vmax","f4"]],"versions":[],"metafiles":[],"num_items":[],"passthrough":true},{"uid":"J41-R6","type":"exposure.thumbnail_blob","group_name":"exposures","name":"micrograph_thumbnail_blob_2x","title":"Passthrough micrograph_thumbnail_blob_2x","description":"Passthrough from input exposures.micrograph_thumbnail_blob_2x (result_name)","min_fields":[["path","O"],["idx","u4"],["shape","2u4"],["format","O"],["binfactor","u4"],["micrograph_path","O"],["vmin","f4"],["vmax","f4"]],"versions":[],"metafiles":[],"num_items":[],"passthrough":true},{"uid":"J41-R7","type":"exposure.stat_blob","group_name":"exposures","name":"background_blob","title":"Passthrough background_blob","description":"Passthrough from input exposures.background_blob (result_name)","min_fields":[["path","O"],["idx","u4"],["binfactor","u4"],["shape","2u4"],["psize_A","f4"]],"versions":[],"metafiles":[],"num_items":[],"passthrough":true},{"uid":"J41-R8","type":"exposure.motion","group_name":"exposures","name":"rigid_motion","title":"Passthrough rigid_motion","description":"Passthrough from input exposures.rigid_motion (result_name)","min_fields":[["type","O"],["path","O"],["idx","u4"],["frame_start","u4"],["frame_end","u4"],["zero_shift_frame","u4"],["psize_A","f4"]],"versions":[],"metafiles":[],"num_items":[],"passthrough":true},{"uid":"J41-R9","type":"exposure.motion","group_name":"exposures","name":"spline_motion","title":"Passthrough spline_motion","description":"Passthrough from input exposures.spline_motion (result_name)","min_fields":[["type","O"],["path","O"],["idx","u4"],["frame_start","u4"],["frame_end","u4"],["zero_shift_frame","u4"],["psize_A","f4"]],"versions":[],"metafiles":[],"num_items":[],"passthrough":true},{"uid":"J41-R10","type":"exposure.movie_blob","group_name":"exposures","name":"movie_blob","title":"Passthrough movie_blob","description":"Passthrough from input exposures.movie_blob (result_name)","min_fields":[["path","O"],["shape","3u4"],["psize_A","f4"],["is_gain_corrected","u4"],["format","O"],["has_defect_file","u4"],["import_sig","u8"]],"versions":[],"metafiles":[],"num_items":[],"passthrough":true},{"uid":"J41-R11","type":"exposure.gain_ref_blob","group_name":"exposures","name":"gain_ref_blob","title":"Passthrough gain_ref_blob","description":"Passthrough from input exposures.gain_ref_blob (result_name)","min_fields":[["path","O"],["idx","u4"],["shape","2u4"],["flip_x","u4"],["flip_y","u4"],["rotate_num","u4"]],"versions":[],"metafiles":[],"num_items":[],"passthrough":true},{"uid":"J41-R12","type":"exposure.ctf","group_name":"exposures_incomplete","name":"ctf","title":"Local CTF estimate","description":"","min_fields":[["type","O"],["path","O"],["exp_group_id","u4"],["accel_kv","f4"],["cs_mm","f4"],["amp_contrast","f4"],["df1_A","f4"],["df2_A","f4"],["df_angle_rad","f4"],["phase_shift_rad","f4"],["cross_corr_ctffind4","f4"],["ctf_fit_to_A","f4"],["fig_of_merit_gctf","f4"]],"versions":[],"metafiles":[],"num_items":[],"passthrough":false},{"uid":"J41-R13","type":"exposure.micrograph_blob","group_name":"exposures_incomplete","name":"micrograph_blob_non_dw","title":"Passthrough micrograph_blob_non_dw","description":"Passthrough from input exposures.micrograph_blob_non_dw (slot_name)","min_fields":[["path","O"],["idx","u4"],["shape","2u4"],["psize_A","f4"],["format","O"],["is_background_subtracted","u4"],["vmin","f4"],["vmax","f4"],["import_sig","u8"]],"versions":[],"metafiles":[],"num_items":[],"passthrough":true},{"uid":"J41-R14","type":"exposure.micrograph_blob","group_name":"exposures_incomplete","name":"micrograph_blob","title":"Passthrough micrograph_blob","description":"Passthrough from input exposures.micrograph_blob (slot_name)","min_fields":[["path","O"],["idx","u4"],["shape","2u4"],["psize_A","f4"],["format","O"],["is_background_subtracted","u4"],["vmin","f4"],["vmax","f4"],["import_sig","u8"]],"versions":[],"metafiles":[],"num_items":[],"passthrough":true},{"uid":"J41-R15","type":"exposure.mscope_params","group_name":"exposures_incomplete","name":"mscope_params","title":"Passthrough mscope_params","description":"Passthrough from input exposures.mscope_params (slot_name)","min_fields":[["accel_kv","f4"],["cs_mm","f4"],["total_dose_e_per_A2","f4"],["phase_plate","u4"],["neg_stain","u4"],["exp_group_id","u4"],["defect_path","O"]],"versions":[],"metafiles":[],"num_items":[],"passthrough":true},{"uid":"J41-R16","type":"exposure.thumbnail_blob","group_name":"exposures_incomplete","name":"micrograph_thumbnail_blob_1x","title":"Passthrough micrograph_thumbnail_blob_1x","description":"Passthrough from input exposures.micrograph_thumbnail_blob_1x (result_name)","min_fields":[["path","O"],["idx","u4"],["shape","2u4"],["format","O"],["binfactor","u4"],["micrograph_path","O"],["vmin","f4"],["vmax","f4"]],"versions":[],"metafiles":[],"num_items":[],"passthrough":true},{"uid":"J41-R17","type":"exposure.thumbnail_blob","group_name":"exposures_incomplete","name":"micrograph_thumbnail_blob_2x","title":"Passthrough micrograph_thumbnail_blob_2x","description":"Passthrough from input exposures.micrograph_thumbnail_blob_2x (result_name)","min_fields":[["path","O"],["idx","u4"],["shape","2u4"],["format","O"],["binfactor","u4"],["micrograph_path","O"],["vmin","f4"],["vmax","f4"]],"versions":[],"metafiles":[],"num_items":[],"passthrough":true},{"uid":"J41-R18","type":"exposure.stat_blob","group_name":"exposures_incomplete","name":"background_blob","title":"Passthrough background_blob","description":"Passthrough from input exposures.background_blob (result_name)","min_fields":[["path","O"],["idx","u4"],["binfactor","u4"],["shape","2u4"],["psize_A","f4"]],"versions":[],"metafiles":[],"num_items":[],"passthrough":true},{"uid":"J41-R19","type":"exposure.motion","group_name":"exposures_incomplete","name":"rigid_motion","title":"Passthrough rigid_motion","description":"Passthrough from input exposures.rigid_motion (result_name)","min_fields":[["type","O"],["path","O"],["idx","u4"],["frame_start","u4"],["frame_end","u4"],["zero_shift_frame","u4"],["psize_A","f4"]],"versions":[],"metafiles":[],"num_items":[],"passthrough":true},{"uid":"J41-R20","type":"exposure.motion","group_name":"exposures_incomplete","name":"spline_motion","title":"Passthrough spline_motion","description":"Passthrough from input exposures.spline_motion (result_name)","min_fields":[["type","O"],["path","O"],["idx","u4"],["frame_start","u4"],["frame_end","u4"],["zero_shift_frame","u4"],["psize_A","f4"]],"versions":[],"metafiles":[],"num_items":[],"passthrough":true},{"uid":"J41-R21","type":"exposure.movie_blob","group_name":"exposures_incomplete","name":"movie_blob","title":"Passthrough movie_blob","description":"Passthrough from input exposures.movie_blob (result_name)","min_fields":[["path","O"],["shape","3u4"],["psize_A","f4"],["is_gain_corrected","u4"],["format","O"],["has_defect_file","u4"],["import_sig","u8"]],"versions":[],"metafiles":[],"num_items":[],"passthrough":true},{"uid":"J41-R22","type":"exposure.gain_ref_blob","group_name":"exposures_incomplete","name":"gain_ref_blob","title":"Passthrough gain_ref_blob","description":"Passthrough from input exposures.gain_ref_blob (result_name)","min_fields":[["path","O"],["idx","u4"],["shape","2u4"],["flip_x","u4"],["flip_y","u4"],["rotate_num","u4"]],"versions":[],"metafiles":[],"num_items":[],"passthrough":true}],"output_group_images":{},"errors_build_params":{},"errors_build_inputs":{},"errors_run":[{"message":"'NoneType' object has no attribute 'data'","warning":false}],"running_at":"2022-05-25T21:30:14.110Z","tokens_acquired_at":1653514209.2810977,"tokens_requested_at":null,"last_scheduled_at":null,"resources_needed":{"slots":{"CPU":2,"GPU":1,"RAM":1},"fixed":{"SSD":false}},"resources_allocated":{"lane":"default","lane_type":"default","hostname":"owner-ThinkStation-P330-Tiny","target":{"type":"node","lane":"default","name":"owner-ThinkStation-P330-Tiny","title":"Worker node owner-ThinkStation-P330-Tiny","desc":null,"hostname":"owner-ThinkStation-P330-Tiny","ssh_str":"owner@owner-ThinkStation-P330-Tiny","worker_bin_path":"/home/owner/cryosparc/cryosparc_worker/bin/cryosparcw","resource_slots":{"CPU":[0,1,2,3,4,5,6,7],"GPU":[0],"RAM":[0,1,2,3]},"resource_fixed":{"SSD":false},"cache_path":null,"cache_reserve_mb":10000,"cache_quota_mb":null,"monitor_port":null,"gpus":[{"id":0,"name":"Quadro P1000","mem":4227530752}]},"slots":{"CPU":[0,1],"GPU":[0],"RAM":[0]},"fixed":{"SSD":false},"license":true,"licenses_acquired":1},"run_on_master_direct":false,"queued_to_lane":"default","queue_index":null,"queue_status":null,"queued_job_hash":null,"interactive_hostname":"owner-ThinkStation-P330-Tiny","interactive_port":null,"PID_monitor":8166,"PID_main":8167,"PID_workers":[],"cluster_job_id":null,"is_experiment":false,"job_dir":"J41","experiment_worker_path":null,"enable_bench":false,"bench":{},"completed_count":0,"instance_information":{"platform_node":"owner-ThinkStation-P330-Tiny","platform_release":"5.13.0-44-generic","platform_version":"#49~20.04.1-Ubuntu SMP Wed May 18 18:44:28 UTC 2022","platform_architecture":"x86_64","physical_cores":8,"max_cpu_freq":4300,"total_memory":"31.23GB","available_memory":"27.47GB","used_memory":"3.31GB","gpu_info":[{"id":0,"name":"Quadro P1000","mem":4227530752}],"CUDA_version":"11.6.0"},"project_uid_num":1,"uid_num":41,"last_exported":"2022-05-25T21:30:07.723Z","ui_layouts":{"P1":{"show":true,"floater":false,"top":464,"left":2900,"width":298,"height":192,"groups":[]},"P1W3":{"show":true,"floater":false,"top":464,"left":1376,"width":298,"height":192,"groups":[]}},"queued_to_hostname":false,"queued_to_gpu":false,"no_check_inputs_ready":false,"num_tokens":1,"job_sig":"280551156645087279594887031299441380541387529386089216974803890941574777978699231781891327559498402852583382393193330725115476025561958381198854090219849106752750391501360776869548721067287355983487320364142942674893177510476645362915404283553540856633069060305929561038683161617540751556448208215205117923818318555251572329306348923667051855723974968729967867920889223730505362218191598968215274435580749388469405656560174044494353448709910173093057461228078193577522404744667599157337204820910361390972244390215634486677151851966978113269885985115511360714748024638028087813875750300475000847486176715842949652403378380939244663939200495054218043549411582787142430825734160526434608101652140793305438409744919068879574832044199092521322772307478038378533243566529590016074582152337506227247623913185240346865645466068063664485741891483870709684877897267912488835553276615828140562942855328023974370587588855505774189917960673689919784829819878430796165210560488854294686544023791121995447445018830364829940147252882915588044028135246566935916992253752293662299965260511497256705863296263065930147209700914177973171346645599398321217199510938021814794023115034765522498925480586340378052349044898686709255125626100285919674916344813","status_num":40}