I am noticing that the particle pre-processing window affects the corrected FSC. Is this the expected behavior, or is this a bug.
The FSC curves below show two non-uniform refinements that are identical, except that in one the windowing was left default (0.85-0.99), and in the other windowing was turned off. In the windowed one, the characteristic drop in the corrected FSC, where the phase randomization begins, is much more dramatic. Other tests show that the smaller I make the window the worse this gets (despite the fact that the window is still larger than the object I'm refining). This occurs both in non-uniform and in homogeneous refinements.
Bug, normal, or am I doing something wrong?
Thanks
RJ
Running version 2.15.0
Windowed 0.85-0.99: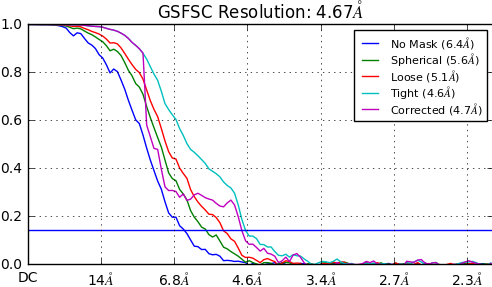 Not windowed: