Hi All,
I am pretty new to the field and now processing my very first dataset.
It is supposed to be a ~140 kDa dimer displaying a C2 symmetry.
After all the pre-processing steps and particle extraction and 2D classification I end up with the following classes - 650k particles in total: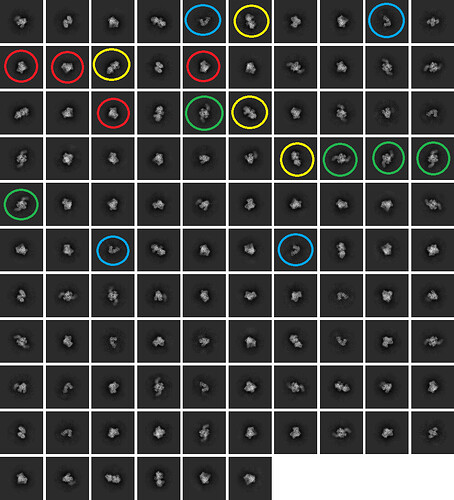 then I run ab-initio with 1, 3 or 6 classes followed by hetero refinement. And what I got is that 2D classes that look alike (highlighted in circles) are sorted together and effectively I end up with 4-5 distinct structures but each with strong preferred orientation.
I am not sure whether this is caused by the poor quality of the sample (cross-contaminations co-purified on the IMAC column, thus many different structures present) or by problems with data processing (in fact the various 2D classes might belong to the same protein/structure but for some reason are separated at the stage of 3D classification).
many thanks,
Peter