Hi all,
I am doing 2D classification on some single particle data that's imported from Relion. An initial 2D resulted in a lot of classes that are featureless/kind of empty (see circled classes in A).
When I run 2D classification on just the empty-looking classes, they split into classes with features. (B)
So it seems like the 2D classification is classifying a lot of particles that has features into these featureless classes, which creates a problem.
For reference, when I run a 2D classification in Relion, I do not encounter this problem. The classes are not great (some edges and some empty) but most classes have a feature. (C)
I was wondering what could cause such a problem with CryoSPARC?
Also, since I only imported the particle stacks without the micrograph, is there a feature in CryoSPARC that allows me to visualize all the particles in a specific class without importing the micrographs?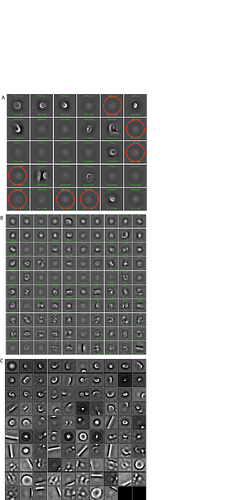 Many thanks,
Cindy