I have another issue open for Motion Correction error in "pycuda._driver.LogicError: cuStreamSynchronize failed: an illegal memory access was encountered"
They might or might not be related. But here is another issue.
I am running patch motion job after importing movies. See the flowchart in the image. The job J26 and J27 have identical parameters except for the location of movies. The job J26 is running while J27 fails with the "Child process with PID terminated unexpectedly with exit code 1" error. The following is the job event log.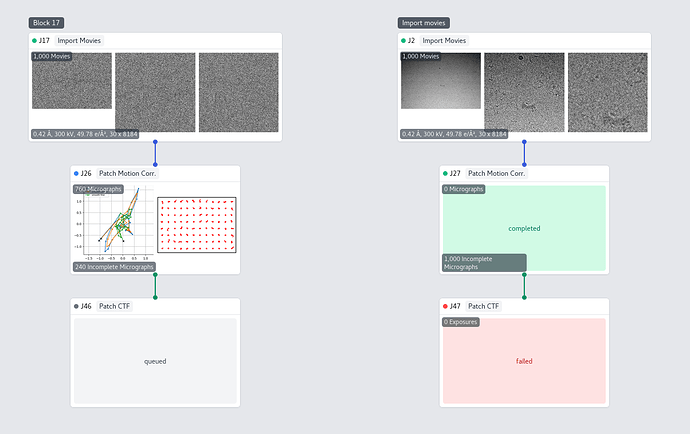 [CPU: 98.0 MB]

Job J27 Started
[CPU: 98.0 MB]

Master running v4.0.3, worker running v4.0.3
[CPU: 98.2 MB]

Working in directory: /home/Work/2022/NOV/cryosparc-jobs/CS-pcm/J27
[CPU: 98.2 MB]

Running on lane GPU_node2
[CPU: 98.2 MB]

Resources allocated: 
[CPU: 98.2 MB]

  Worker:  GPU_node2
[CPU: 98.2 MB]

  CPU   :  [0, 1, 2, 3, 4, 5]
[CPU: 98.2 MB]

  GPU   :  [0]
[CPU: 98.2 MB]

  RAM   :  [0, 1]
[CPU: 98.2 MB]

  SSD   :  False
[CPU: 98.2 MB]

--------------------------------------------------------------
[CPU: 98.2 MB]

Importing job module for job type patch_motion_correction_multi...
[CPU: 262.8 MB]

Job ready to run
[CPU: 262.8 MB]

***************************************************************
[CPU: 265.4 MB]

Job will process this many movies:  1000
[CPU: 265.4 MB]

parent process is 439871
[CPU: 191.8 MB]

Calling CUDA init from 439911
[CPU: 270.5 MB]
******************************Child process with PID 439911 terminated unexpectedly with exit code 1.
[CPU: 269.8 MB] *****************************************************************************

--------------------------------------------------------------
[CPU: 269.8 MB]

Compiling job outputs...
[CPU: 269.8 MB]

Passing through outputs for output group micrographs from input group movies
[CPU: 269.8 MB]

This job outputted results ['micrograph_blob_non_dw', 'micrograph_thumbnail_blob_1x', 'micrograph_thumbnail_blob_2x', 'micrograph_blob', 'background_blob', 'rigid_motion', 'spline_motion']
[CPU: 269.8 MB]

  Loaded output dset with 0 items
[CPU: 269.8 MB]

Passthrough results ['movie_blob', 'gain_ref_blob', 'mscope_params']
[CPU: 269.9 MB]

  Loaded passthrough dset with 1000 items
[CPU: 269.9 MB]

  Intersection of output and passthrough has 0 items
[CPU: 269.9 MB]

Passing through outputs for output group micrographs_incomplete from input group movies
[CPU: 269.9 MB]

This job outputted results ['micrograph_blob']
[CPU: 269.9 MB]

  Loaded output dset with 1000 items
[CPU: 269.9 MB]

Passthrough results ['movie_blob', 'gain_ref_blob', 'mscope_params']
[CPU: 269.9 MB]

  Loaded passthrough dset with 1000 items
[CPU: 270.6 MB]

  Intersection of output and passthrough has 1000 items
[CPU: 270.6 MB]

Checking outputs for output group micrographs
[CPU: 270.6 MB]

Checking outputs for output group micrographs_incomplete
[CPU: 270.9 MB]

Updating job size...
[CPU: 270.9 MB]

Exporting job and creating csg files...
[CPU: 271.0 MB]

***************************************************************
[CPU: 271.0 MB]

Job complete. Total time 30.79s