I recently used the CrYOLO 1.9.1 particle stack to extract particles from my micrographs. Later I started a 2D classification job on the extracted particles from the "Extract Micrographs" job. The 2D classification failed with this error.
Is this because of the CrYOLO Particles or something different?
We use the v4.1.2 of CryoSPARC .
I have pasted the error message screenshot below.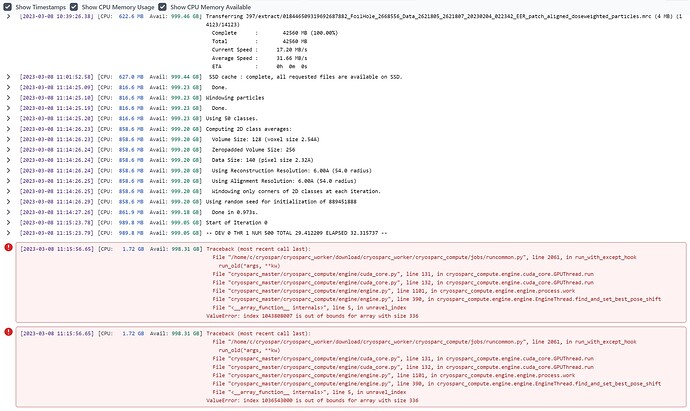 The Text Inside the error is as follows :
[2023-03-08 11:15:56.65]
[CPU: 1.72 GB Avail: 998.31 GB]
Traceback (most recent call last):
File "/home/c/cryospar/cryosparc_worker/download/cryosparc_worker/cryosparc_compute/jobs/runcommon.py", line 2061, in run_with_except_hook
run_old(*args, **kw)
File "cryosparc_master/cryosparc_compute/engine/cuda_core.py", line 131, in cryosparc_compute.engine.cuda_core.GPUThread.run
File "cryosparc_master/cryosparc_compute/engine/cuda_core.py", line 132, in cryosparc_compute.engine.cuda_core.GPUThread.run
File "cryosparc_master/cryosparc_compute/engine/engine.py", line 1101, in cryosparc_compute.engine.engine.process.work
File "cryosparc_master/cryosparc_compute/engine/engine.py", line 390, in cryosparc_compute.engine.engine.EngineThread.find_and_set_best_pose_shift
File "<array_function internals>", line 5, in unravel_index
ValueError: index 1043808007 is out of bounds for array with size 336
[2023-03-08 11:15:56.65]
[CPU: 1.72 GB Avail: 998.31 GB]
Traceback (most recent call last):
File "/home/c/cryospar/cryosparc_worker/download/cryosparc_worker/cryosparc_compute/jobs/runcommon.py", line 2061, in run_with_except_hook
run_old(*args, **kw)
File "cryosparc_master/cryosparc_compute/engine/cuda_core.py", line 131, in cryosparc_compute.engine.cuda_core.GPUThread.run
File "cryosparc_master/cryosparc_compute/engine/cuda_core.py", line 132, in cryosparc_compute.engine.cuda_core.GPUThread.run
File "cryosparc_master/cryosparc_compute/engine/engine.py", line 1101, in cryosparc_compute.engine.engine.process.work
File "cryosparc_master/cryosparc_compute/engine/engine.py", line 390, in cryosparc_compute.engine.engine.EngineThread.find_and_set_best_pose_shift
File "<array_function internals>", line 5, in unravel_index
ValueError: index 1036543000 is out of bounds for array with size 336
Thank You