Hi,
We are using cryoSPARC v3.3.2 .
I have a structure of a homodimeric complex (C2 symmetry), after Nu-refinement resolution is around 3A but only for the core domain. A peripheral domain is quite flexible, and I would like to do a local refinement for this part but exploit the symmetry of the particle. However, I am not sure how to do this correctly in cryoSPARC.
Below is what I did so far:
First SYMMETRY EXPANSION, with option: POINT GROUP SYMMETRY: C2

then I followed this case study: Case Study: Yeast U4/U6.U5 tri-snRNP - CryoSPARC Guide
a) I used Chimera to make a mask for one peripheral domain. Here, I do not know whether I should have made a mask of both peripheral domains of this homodimer, or I only need to make a mask for one of them.
b) Then I prepared a mask of the rest of the dimeric structure, which includes the peripheral domain of the second monomer. Then IMPORT VOLUME: type is mask, and afterwards VOL TOOL, with option: type of input volume: mask, type of output volume: mask, threshold:0.05, Dilation redius:5.
c) Then I did PARTICLE SUBTRACTION with option: particles from symmetry expansion, with the mask of the rest of the structure, and the NU-refined structure volume low pass filtered to 6A.
d) finally LOCAL REFINEMENT (see settings in attached picture), but the map resulting from this did not look very promising.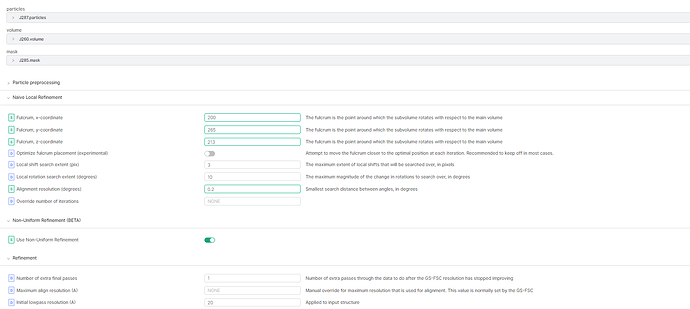 Is this workflow correct or did I get it wrong at some point?
Many thanks for your help and looking forward to your reply!
Best wishes,
QCHong