Hi,
First of all I just want to say thanks for expanding cryoSPARC's functionality to do helical refinement. Very useful feature to have!
Now I'm wondering if it is possible to do a masked helical refinement and how to do it? I've attempted it using masks made from refined maps, refined sym maps, and from the mask_refine but I always get the below. This is both with edited maps (by chimera) and even if I take the unmodified mask_refine from a previous helical refinement run
CPU: 930.1 MB] Traceback (most recent call last):
File "cryosparc_worker/cryosparc_compute/run.py", line 84, in cryosparc_compute.run.main
File "cryosparc_worker/cryosparc_compute/jobs/helix/run_refine.py", line 265, in cryosparc_compute.jobs.helix.run_refine.run
AssertionError: Mask must have the same shape as volume. Use vop resample command on the mask in Chimera to ensure shapes match.
I'm not sure why it gives this warning as I do not get it if I do a standard refinement. Has any one else come across this and solved it? It may be because my particles are an odd example of a filament as my sample consists of a filamentous central domain with highly flexible domains budding off. The issue I face is that the flexible buddings are larger than the central filament and along with their flexibility probably make helical refinement difficult. So ideally I wish to do a masked helical refinement on the central filamentous region (Two representative classes below).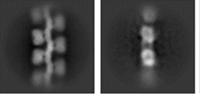 It's just odd that I get the same error with just using an unmodified mask_refine from a previous job, but maybe I'm missing something?
Thanks,
Thomas