I recently installed cryoSPARC on a linux box with 2 GPUs for Dr Mohammad Mazhab-Jafari. This was purchased about a year ago and Dr. Jeff Lee has the same set up and has not experienced issues, although he said they haven't run cryoSPARC that often on that computer.
We are having a hardware issue when we run cryoSPARC. We haven't had issues before when running Relion, even when really pushing the performance with both GPUs at the same time.
To sum up, when running certain jobs that use the GPU, like Refinement, we the job stops and gives a heart beat error. Sometimes cryoSPARC stays running (as in cryosparcm stays running). However, very often the comptuer reboots. Out of 50 refinement jobs, we only got one to complete, so there is not always a problem. I don't see much of anything when monitoring htop or nvidia-smi through ssh. It just hangs / breaks the ssh pipe when the computer reboots. However if we log on in text mode, the following error spontaneously appears on its own (see attached).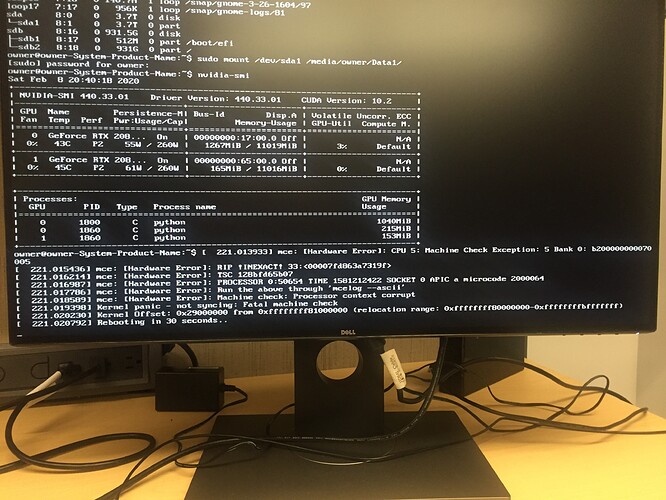 hardware error: CPU 5: machine check exception
Kernel panic - not syncing: Fatal machine check
Rebooting in 30 seconds
The screen shot says
Driver Version: 440.33.01
CUDA Version: 10.2
We changed and are still having the same problem with:
Driver Version: 410.48
V10.0.130
Does anyone have ideas for how to narrow down the problem? Should I run more cryoSPARC jobs and see which ones complete and which fail.
What can I do to diagnose the issue? Should I try combinations of Drivers and CUDA versions?