Hi all!
I'm an undergraduate student new to the subject. I'm currently working on implementing cryo-EM analysis capabilities in our lab using CryoSPARC. I'm also new to the subject as a whole. Using the fantastic online course by prof. Grant Jensen and the documentation provided by CryoSPARC I built an analysis protocol that looks like this: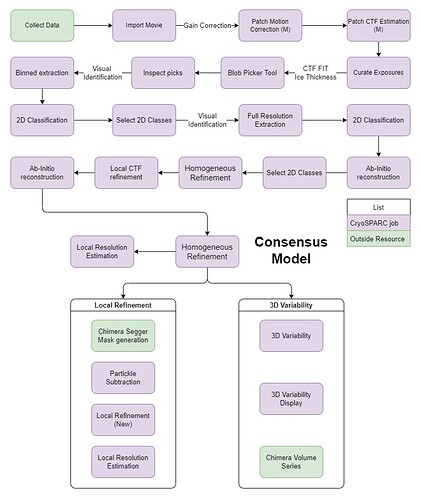 Using this protocol, we achieved a resolution of 2.9A, which is pretty good for a first-time try. However, when I Attemped to incorporate a global CTF refinement step or a local motion correction step, the resolution didn't improve or even degraded. I am also not sure if I used every job in the correct order.
From a quick look at this forum, it is clear that I have a lot to learn on the subject. Any input you may provide will be very appreciated.