Hi all,
I am having an issue with importing my Relion Bayesian Polishing output (shiny.star) into cryoSPARC, in order to complete a final round of 3D Refinement. I am importing my shiny.star file using the Import Particle Stack job, and specifying the path to my shiny.star file in the field Particle Meta Path (I am leaving the Particle Data Path blank for this job). The issue is that the job runs successfully to completion, however the imported particle images appear as follows: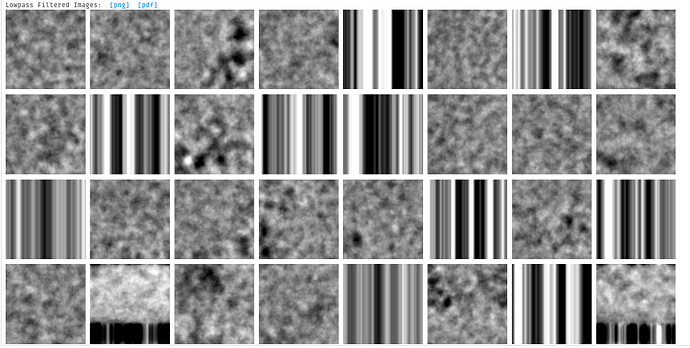 Furthermore, the job output reads as follows (see my comment in the thread below):
I tried to perform 2D classification to remove the images that are only vertical/horizontal lines, however ever the remaining particles have extremely poor resolution. I had used this set of particles to make an initial 3D refinement of ~3.5 A, and was trying to improve it using the Bayesian Polishing in Relion.
Lastly, I tried to perform a CTF Refinement (beamtilt & trefoil) in Relion, before importing these particles in to cryoSPARC (using the same method outlined above), however the imported images still appear similar to the ones shown earlier.
I noticed in the job log there is only one warning ("Warning: No micrographs were connected as inputs, so correspondences cannot be found, so output will not contain pick locations for particles."), so I'm wondering if my issue is somehow related to this message?
Thank you for your input!
-Shawn