I have a very high density of particles, which I'm very excited about, but I am having some trouble finding 2D classification parameters where the classes don't drift.
For instance, here is a micrograph:

And the template picking is going quite well:

…but when I get to the 2D classification stage, things are not going very well. I think the problem is that the particle is very high symmetry, so the neighboring particles are essentially always in the same orientation, and reinforce in the averages, instead of averaging away:

With a very tight mask (94Å inner, the size of the particle, 100Å outer), the particles start to overlap in the averages:

or the averages will instead focus on the edge of a particle: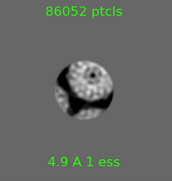 I want the particle density to be as high as possible in the micrographs, because I will get better CTF corrections, but I am somewhat at a loss as to how to solve this classification problem. I've tried playing with nearly every parameter available. I have:
Turned up COM threshold to 0.5, 0.75, and 0.9 with no changes
Tried COM binary
Turned off 2D recentering
Toggled on and off marginalize over poses, doesn't seem to impact it
Changed batch size to 1000 (because I saw that sometimes good classes appear, but then later disappear)
Tried 40 iterations
Tried lowering uncertainty factor, since the initial picking looks pretty good
I'm then having a similar problem with homogenous refinement with symmetry enforced:

The neighboring particles won't go away. If I try it with a static mask, my resolution unfortunately tanks:

And real-space unfortunately smears out like it's not actually aligning the particles well. I don't think this would be an issue if I could get good 2D classes first.
Does anyone have experience, and any suggestions on how to handle datasets with particles packed this closely?
Thanks