Dear Everyone,
I am experincing some problems analyzing a dataset. My sample is a dimeric membrane complex of 105Å depth (45 Å in membrane), 205 Å length, and 110 Å width.
I manage to obtain good initia 2D classes, even though I can't see any internal features. From there after multiple rounds of Ab-initio and 2D clasees I get a 3D volume that looks like my complex of interest, but then I get really confusing results in the homogeneous and NU-refinements that I have done.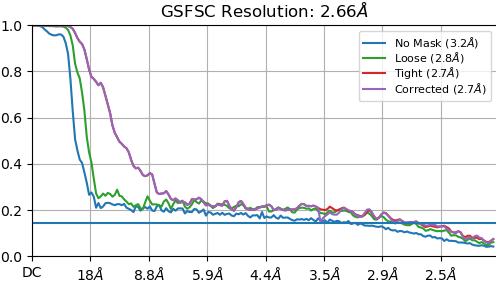 First of all I don't fully understand the shape of this FSC, what might the issue be? Moreover, when I look at the map, the surface looks really sharp, but the inside is "empty" and I can see no features at all. (I would have sent more pictures but the forum is not allowing me)
At this point I am very confused if the problem is sample related or processing realted. Would a bigger dataset help in this this?
One of the possible explanation I'm thinking of is that in my sample might be present a contamination 10% of another membrane complex, a circular trimer with a diameter also of 200 Å length. And this is confusing everything from the 2D classification. Is this a silly idea? if not, do you have any suggestion on how to try to detangle the particles that belong to different complexes? I have already tried heterogeneous refinement, ab inition with a large number of classes and some other things.
Sorry for the long post and thanks to anyone that can help,
Giovanni