Hi,
I was running 3D flex refinement on a smaller dataset (box size 400, particle number 9K), and it ran through. I would like to try an unbinned dataset with more particle (box size 506, particle num 16K). At first, we are not able to run because of memory issue, after we add more memory to GPU, it can run but got terminated in the middle, give us the following message: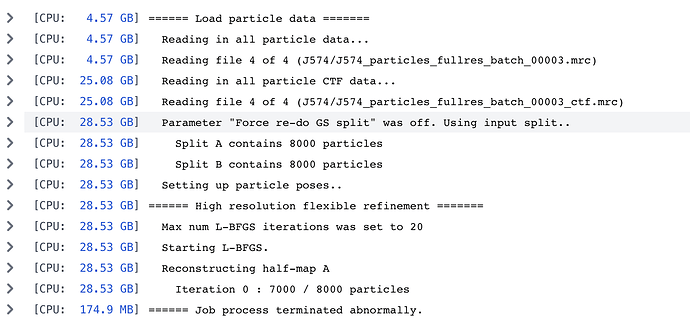 ---
RUNNING THE L-BFGS-B CODE
       * * *

Machine precision = 2.220D-16
N = 129554216 M = 10
This problem is unconstrained.
At X0 0 variables are exactly at the bounds
At iterate 0 f= 2.05504D+09 |proj g|= 2.99145D+03
python[53182]: segfault at 7f5a39578df0 ip 00007f7470618ff8 sp 00007ffd8f2724d0 error 6 in _lbfgsb.cpython-38-x86_64-linux-gnu.so[7f7470609000+17000]
Looking forward to any suggestions!
Thanks!
Kai